Unleashing Women's
Inner Strength

The right tools and the right mindset: that's what a woman needs in order to defend herself in an unpleasant situation. This kind of life-saving, indispensable knowledge needs to be shared widely with people across the globe.
Pretty Deadly Self Defense is a program that does just that. On top of regularly scheduled in-person classes, they also offer a handy app that teaches women the basics of self defense.

I was brought in to re-structure and re-design an existing barebones app. The biggest task before me was presenting information in a clear and accessible. I combined similar content, logically organized its presentation, and paid special attention to the friendliness of the design.

Skills Used
: UX, UI, Design, Animation
Tools Used
: Figma, Photoshop, Good Barber
Client
: Pretty Deadly Self Defense
Logo design
: Kseniya Apresyan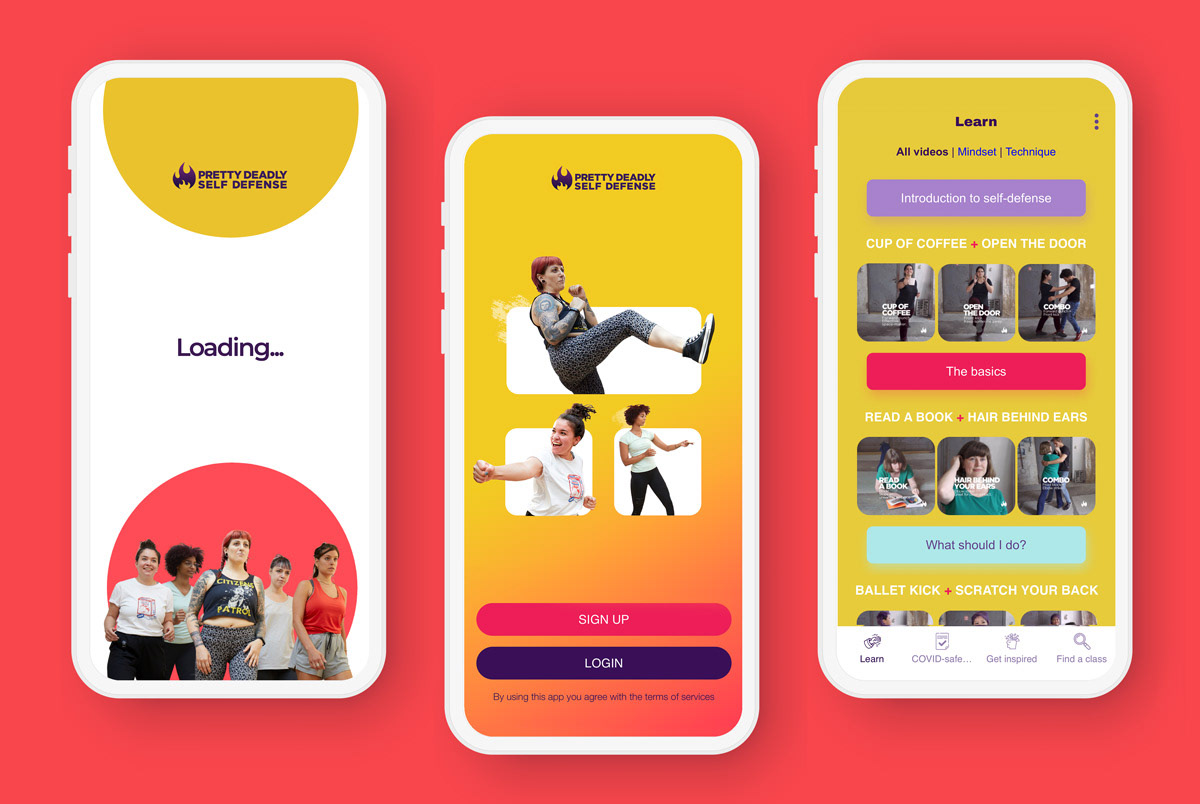 The Learn tab is the most important section of the app. It contains a vast variety of educational videos. I organized the videos by general topic: mindset and technique, with each sub-section splitting into multiple categories of its own. I made sure the navigation felt intuitive by employing additional navigation sub-sections and creating visuals explaining each video category.

Helping Keep Track of Medication
Medication is an integral part of many people's lives. Regularly taking one's pills helps folks keep unwanted symptoms at bay and improves their quality of life.  
Take Your Pills is an app inspired by rainbow-colored physical pill planners. It color codes each day's medications and allows for intuitive horizontal navigation between weekdays: simply swipe left to see the next day. 
In-app reminders help folks stay on top of their meds and the Weekly Progress Report feature allows them to see their past week at a glance. 

Skills Used
: UX, UI, Design, Animation
Tools Used
: Figma, After Effects, Lottie
Making Swapping Items Fun
Caboodle is a fast-paced item swapping app based in the US. I was brought on as the lead designer and helped define the app's UI and UX from the very start. My main goal was to create a framework that would support the app's core functionality: giving and getting an item. The onboarding user flow gives players a taste of the app's core gameplay. Giving an item is explained through a separate FTUE flow. Additional app features such as powerups and item preferences are laid out in a clear, engaging manner. 
Skills Used
: UX, UI, Design, Animation